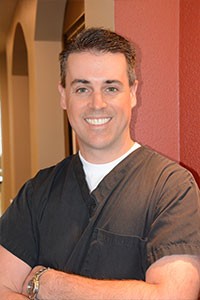 Hamilton Calder, DDS
Dr. Hamilton Calder has lived in Northwest Houston for over 25 years and is part of a Spring tradition of dental comfort and care. He graduated from Brigham Young University, then from the University of Texas Dental School in 2002. Dr. Calder is continually educating himself and his staff on the newest techniques and approaches to provide you with the most advanced, antiseptic, gentle, and personalized care.
Dr. Calder is a member of the Academy of General Dentistry, an organization of general dentists dedicated to professional development and continuing education. He is also a member of the American Dental Association, Texas Dental Association, and International Association of Orthodontics.
Dr. Calder and his family enjoy skiing, waterskiing, yard work, and flossing. As a member of the Church of Jesus Christ of Latter-day Saints, he served on a two-year mission in Portugal.
---

Dr. Timothy Durr
Dr. Tim Durr is an associate dentist who works with Comfort Dental Excellence as a general dentist. He tries at all times to maintain very high standards and to render the best dentistry possible. He is a native south east Texan, completed a B.S. at Lamar University in Beaumont, TX and completed his DDS in 2013 at UT Dental Branch in Houston.
Dr. Durr and his wife married in 2000 and have 5 children. He is an active father, husband, musician and martial artist.
---