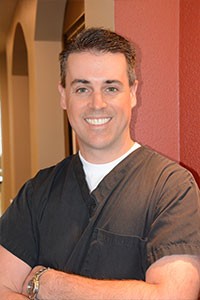 Hamilton Calder, DDS
Dr. Hamilton Calder has lived in Northwest Houston for over 25 years and is part of a Spring tradition of dental comfort and care. He graduated from Brigham Young University, then from the University of Texas Dental School in 2002. Dr. Calder is continually educating himself and his staff on the newest techniques and approaches to provide you with the most advanced, antiseptic, gentle, and personalized care.
Dr. Calder is a member of the Academy of General Dentistry, an organization of general dentists dedicated to professional development and continuing education. He is also a member of the American Dental Association, Texas Dental Association, and International Association of Orthodontics.
Dr. Calder and his family enjoy skiing, waterskiing, yard work, and flossing. As a member of the Church of Jesus Christ of Latter-day Saints, he served on a two-year mission in Portugal.
---
Craig C. Pettey, DDS, FAGD
Dr. Craig Pettey earned his bachelor's degree in German and biological studies in 1970. In 1975, he graduated with his Doctor of Dental Surgery degree from the UTHealth School of Dentistry at Houston. While Dr. Pettey has been practicing dentistry for a number of years, he remains committed to continuing his education in the dental field every year. He has achieved Fellowship status in the Academy of General Dentistry, and he is also a member of the American Dental Association, Texas Dental Association, American Academy of Cosmetic Dentistry, and Greater Houston Dental Society. Dr. Pettey is dedicated to continually advancing his skills and understanding of new treatment methods and technologies for improved patient care. His main focus in dentistry is orthodontics; he enjoys the challenge of improving a smile. He believes that a confident, attractive smile improves self-confidence.
Dr. Pettey is married and has three children and seven grandchildren. His hobbies include golf and sailing.