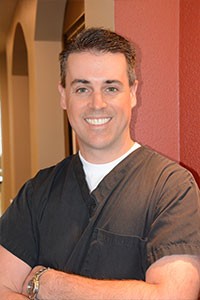 Hamilton Calder, DDS
Dr. Hamilton Calder has lived in Northwest Houston for over 25 years and is part of a Spring tradition of dental comfort and care. He graduated from Brigham Young University, then from the University of Texas Dental School in 2002. Dr. Calder is continually educating himself and his staff on the newest techniques and approaches to provide you with the most advanced, antiseptic, gentle, and personalized care.
Dr. Calder is a member of the Academy of General Dentistry, an organization of general dentists dedicated to professional development and continuing education. He is also a member of the American Dental Association, Texas Dental Association, and International Association of Orthodontics.
Dr. Calder and his family enjoy skiing, waterskiing, yard work, and flossing. As a member of the Church of Jesus Christ of Latter-day Saints, he served on a two-year mission in Portugal.
---
Rahul Mehta, DMD 
Dr. Rahul Mehta is an Associate General Dentist. He graduated from Kent State University in Ohio and then from Case Western University School of Dentistry in Cleveland, OH, with a D.M.D. degree.
Following this, he worked at a General Practice Residency at UT Medical Center, where his primary focus was on taking excellent care of patients and learning advanced dental and surgical procedures. Dr. Mehta keeps up to date with new techniques and technologies in dentistry through continuing education courses. He strives to continually learn new and innovative ways to provide comfortable, high quality dentistry to all patients.
Dr. Mehta and his wife were married in November 2016. In his free time, he enjoys spending time with his family, cooking, woodworking and traveling.
---